Our team is comprised of professionals with extensive backgrounds in law enforcement, government security, military, and intelligence services in the United States and abroad.
Kathryn Rozin
CHIEF EXECUTIVE OFFICER
Kathryn Rozin is a founding partner and the CEO of Rozin Security, a forward-thinking company dedicated to providing proactive and customized security solutions. She has more than 25 years of experience in effectively managing strategy, financial results, sales, branding, marketing, and operational efforts for a variety of small-to medium-sized businesses.
In parallel with Rozin Security's core functions, Kathryn co-founded Rozin Technologies in 2021 which houses TIPS® (Threat Information Protection System), a proprietary risk management software system that offers organizations innovative and intelligent tools to proactively detect and prevent evolving threats.
Kathryn also conceptualized and manages Rozin's elite online educational programs and certifications such as SIRA® (Suspicion Indicators Recognition and Assessment) and The Red Team Academy® which is expected to launch January 2023.
Beyond her successes as the leader of Rozin Security, Kathryn is passionate about transforming security into a leading respectable profession led equally by women and underrepresented individuals. She hopes that by directing profitable and respected security service and technology companies, she can encourage women and underrepresented individuals to get into the field and build their own paths to prosperity. Since its inception in 2010, Kathryn has run and grown multiples businesses alongside raising three girls with her personal and professional partner, Michael Rozin. Her mission is to help individuals like herself who are family, career and community service driven to strike a healthy balance between their professional and personal goals, and to find fulfillment in all aspects of their lives.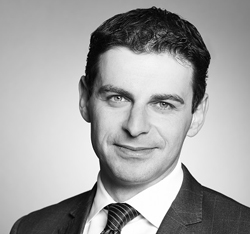 Michael is a founding partner and the president of Rozin Security. For nearly 20 years, he has focused on terrorism prevention and security, and is highly-skilled in proactive protection against terrorists and other high-risk perpetrators of violence.
Michael served in the Israel Defense Forces as a sergeant in the specialized combat unit Barkan. After his military service, Michael completed an advanced security and anti-terrorism training program at the Israel Security Academy under the oversight of the Israel Security Agency. He then joined the Israel Airport Authority where he worked as a security agent for Ben-Gurion International Airport in Tel Aviv. In 2005, he received an award for excellence for his performance at the agency.
In 2010, Michael was hired as the Special Operations Security Captain at the Mall of America in Minnesota. In this role, he developed, implemented, and managed a behavioral detection unit and various programs focused on counter-terrorism. These initiatives proved to be so effective that Michael presented them to the U.S. House of Representatives Committee on Homeland Security as a model for security in the private sector.
Michael is a regular guest speaker at law enforcement conferences on counter-terrorism and other proactive security methods. He has trained a number of law enforcement and security agencies on counter-terrorism and tactical response techniques.
In addition, Michael works as a faculty member at the University of Minnesota's Master of Science in Security Technology program. In this role, he teaches the principles of security risk assessment and the integration of psychology, behavior threat detection, and technology in a security operation.
Michael is a graduate of the Institute of Counter-Terrorism in the Interdisciplinary Center in Hertzliya, Israel, where he attended a masters level executive counter-terrorism studies program. He is a certified Krav Maga instructor and is fluent in Russian, Bulgarian, Hebrew, and English.
Zvi Kremer
VICE PRESIDENT OF PRODUCT
Zvi is the Vice President of Rozin Security and has more than 25 years of security, management, and business experience. He completed the Advanced Security and Anti-Terrorism Management training given by the Israeli General Security Service/Israel Security Agency (SHIN-BET) and was EL AL Israel Airline's Chief of Security in Moscow and later in Chicago. In these roles, Zvi managed the security of the airline's passengers, cargo, staff, aircrafts, and facilities.
Following his service with EL AL, Zvi joined ICTS International where he served as a regional manager overseeing operations at ten major airports in the U.S. and then as a director of special projects with ICTS USA. From ICTS, Zvi moved to Harbinger Technologies Group where he was a senior consultant and a director for strategic initiatives, focused on developing and delivering training programs for law enforcement and military personnel. Prior to joining Rozin Security, Zvi was the managing director of EstablishNet International, where he developed advanced security training programs and provided consulting services to various stakeholders in the security industry.     
Zvi is a former Israeli Defense Force Major (company commander). He holds an MBA from Loyola University and an economics degree from Tel Aviv University.
Travis Lishok
SECURITY RISK ASSESSMENT SPECIALIST
Travis serves as a Risk Assessment Specialist for Rozin Security and a red team member, where he applies his 10+ years of protective security experience to help clients secure their most valued assets. He also serves as a Board Member for the Board of Executive Protection Professionals.
Prior to joining Rozin Security, Travis led the security risk management program at Ontic Technologies, a security software startup. In this role, Travis worked with stakeholders, executives, and clients across business units to meet business objectives. Travis excelled in previous roles before working with Ontic Technologies, including threat assessment investigations, corporate executive protection, and military police in the USMC Reserve.

Travis has earned the following security industry designations board-certified by ASIS:
• Physical Security Professional (2022)
• Certified Protection Professional (2018)
Additionally, Travis received his Masters degree in Applied Psychology from the University of Southern California (2021). For his thesis, Travis surveyed and/or interviewed nearly 100 corporate investigators to understand their approach to investigations and educate software executives & designers about the attitudes/behaviors of their primary user base. Travis attended California State University, Fullerton, for his undergraduate studies in Political Science; during this time, Travis expanded his perspective on international cultures and geopolitical risk.
James Alford
RISK ASSESSMENT SPECIALIST
James serves as a Risk Assessment Specialist for Rozin Security, where he draws on four years of experience in homeland security in the state of Ohio. Prior to this position, James conducted assessments of critical infrastructure, managed large law enforcement and homeland security databases, and operated drones with his sUAS Pilot in Command certification from the FAA.
James received his master's degree in Security and Diplomacy Studies from Tel Aviv University (TAU) in Israel. While in Israel, James surveyed critical security sites, including security barriers, border crossings, UN missions, and police and military installations. James also participated in the TAU Ambassador Series, where he learned from diplomats to the State of Israel from around the world.
James went to the Ohio State University for his undergraduate studies, double majoring in Security and Intelligence and Psychology, with a Spanish minor. There, James explored many different styles of intelligence writing in a graduate-level practicum instructed by a former CIA Officer-in-Residence.
Robert Rawson
SENIOR THREAT MITIGATION SPECIALIST
Rob has over 18 years of experience in law enforcement and corporate security, including active duty military service with the U.S. Army as a Combat Medic. Rob worked for the Chisago County Sheriff's Office and spent six years as a State Trooper with the Minnesota State Patrol before he began his career in private and corporate security.
In his current role as Senior Threat Mitigation Specialist, Rob manages all CONUS and OCONUS field operations within the Threat Management Division as well as managing Rozin Security's Threat and Intelligence Analyst program. Rob currently teaches and performs physical red team testing where he specializes in covert entry, surveillance, technical surveillance, and social engineering. During his time with Rozin Security, Rob spent one year embedded in a fortune 50 company as a consultant on a global security team to support their global red team operations. Rob is a certified instructor in behavior detection methods through Rozin Security's Suspicion Indicators Recognition & Assessment System (SIRA®). He is also a licensed armed protective agent and private detective in Minnesota. During his time in law enforcement, he has received numerous letters of commendation from the FBI and the Minnesota State Patrol for his work in terrorism, narcotics, and criminal interdiction. 
Rob has supported many private organizations and high-level government agencies throughout his career and continues to do so in his role at Rozin Security. Prior to working for Rozin Security, Rob worked as a private contractor and spent time as the Operations Manager for a local security firm, where he focused on managing all aspects of a 300-person security team serving over 50 clients, including the Minnesota Timberwolves. While working as a private security consultant, Rob worked mainly in austere and high threat environments. He managed executive security and protection, high-value parcel transportation, protective and physical surveillance, and played a significant role in Super Bowl LII, including the planning and managing of all executive protection for celebrities, athletes, and performers. Rob also partnered with Rozin Security to execute the security plan for the Super Bowl LII Live event.
Rozin Security deploys highly skilled protective operators. The TIER I operators and TIER II agents bring unmatched professionalism and protection experience. Rozin Security TIER II Protective Agents come from typical military roles such as infantry, military police, force protection and/or law enforcement agencies. Our TIER I operators come from elite United States Military Special Operations units, Secret Service, FBI, SWAT teams, and the Central Intelligence Agency.
Rozin Security provides highly experienced investigators to work with clients to conduct or support any active investigations, discover facts, compile comprehensive investigative cases, review and enhance background check policies and procedures, and ensure compliance with local, state, and federal laws. Rozin investigators have years of investigative experience and come from government agencies and the private sector. They are rated as some of the best in the industry
Rozin Security analysts are responsible for supporting all divisions of the company by developing threat assessment reports, providing continuous analytical support, delivering threat intelligence briefings, conducting security risk assessments, managing complex investigations, supporting red team assessments, performing Open Source Intelligence (OSINT) analysis, writing technical reports, and managing client relations. Our analysts come with training and experience from various homeland security, military, and elite intelligence agencies.
David Delgado
CERTIFIED SIRA® TRAINER
David has more than 24 years of experience in federal law enforcement, the United States Military, anti- terrorism, and security. He is a retired Senior United States Federal Air Marshal (FAM) and United States Marine Corps (USMC) veteran.
David started his federal career in 1994 with the USMC.  Assigned to the USMC Security Forces Company, he was trained in physical security, small unit operations, close quarters battle, terrorism counteractions, and force reaction. David was honorably discharged in 1998 as a Marine Sergeant.
After his service with the USMC, David worked as a federal police officer. He graduated the Federal Law Enforcement Training Center (FLETC) Police Officer program and worked as a uniformed federal police officer in Chicago.
Immediately following the terror attacks on 9/11, David was recruited by the Federal Air Marshal Service (FAMS). He then graduated from the FLETC Federal Air Marshal Training Course. As a Senior FAM, David provided a federal law enforcement presence aboard U.S. air carriers throughout the world, within U.S. airports, in other transportation venues, and to high profile events throughout the U.S. He retired in 2018 after more than 16 years with the FAMS.
David has received numerous awards and recognitions throughout his service to the United States. In addition, he has completed the following courses throughout his career: Federal Air Marshal Training Course; Federal Police Officer Training Course; Marine Corps Security Forces Training Course; Marines Corps Close Quarters Battle Training Course; Marine Corps Infantry School; Rozin Security SIRA® Practitioner Course; and, Rozin Security SIRA® Instructors Course.
Kristin Rollwagen
EMERGENCY MANAGEMENT CONSULTANT
Kristin is an associate for Rozin Security and the manager of emergency programs for the Metropolitan Airports Commission at the Minneapolis-Saint Paul International Airport. Prior to this position, Kristin was the homeland security grant program administrator for the Minnesota Division of Homeland Security and Emergency Management.
In this role, she was responsible for the grant program, security strategy, the state preparedness report and the governor's senior advisory committee. Kristin has also worked as Minneapolis' deputy director of emergency preparedness. In that position, she was responsible for the city's emergency operations plan, coordinating the Metropolitan Medical Response System program, grants and strategies, and working with law enforcement, public health and public works to coordinate an effective homeland security response. Kristin has also worked for the Minneapolis Fire Department as a captain, public information officer and emergency preparedness officer before she was promoted to deputy chief.
Kristin has bachelor's degrees in Spanish, biology and chemistry from the University of Saint Thomas. She holds a master's degree in public safety administration from Saint Mary's University, and graduated from the National Fire Academy Executive Fire Officer Program and the Executive Leaders Program at the Naval Postgraduate School as well. Kristin also attended the Senior Executives in State and Local Government Program at the Harvard Kennedy School of Government. Kristin is an instructor for the Homeland Security Degree Program at Minneapolis Community and Technical College, and police and public safety programs at Saint Mary's University. In addition, Kristin serves on the All Hazard Incident Management Team, is an A-Team member for the Minnesota Emergency Management Assistance Compact and is a member of the Bloomington Citizen Corps Council.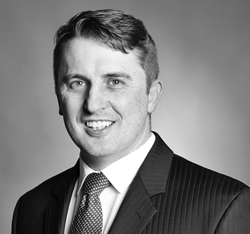 Grant Hosmer
EMERGENCY MANAGEMENT CONSULTANT
Grant has a background in physical security, emergency management, and law enforcement. He served in the United States Air Force (USAF) security forces nuclear weapons security and law enforcement field for 11 years as both enlisted and commissioned officer status.
Grant has held leadership positions at the flight, operations, and squadron levels in training and exercise, resource management, tactical operations, and special event planning, security, and coordination. His assignments took him to Northern Tier ICBM bases in Montana and North Dakota, as well as training and flight line security operations in San Antonio, Texas.
Grant has extensive experience in developing and implementing Threat and Hazard Identification and Risk Assessment (THIRA) and preparedness reports using FEMA's Unified Report Tool. He has written and reviewed hundreds of THIRAs and successfully implemented THIRA-preparedness report processes into emergency management programs at all levels of government. Grant is also very skilled at creating and implementing viable critical infrastructure security and resilience programs for public and private sector partners. His programs are developed in alignment with federal guidance and have produced multiple national best practices through effective identification, assessment, prioritization, and resiliency-building improvement plans and programs. His experience also includes business impact analysis and critical infrastructure facility risk assessments.
Grant received his USAF commission and holds a Bachelor's degree in political science from the University of Minnesota. He also holds a Master's in public safety administration from Saint Mary's University in Minneapolis.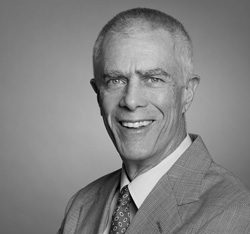 John Wheeler has worked with Rozin Security since its founding, primarily in the areas of vision, organizational development, strategic planning, and business development.
Previously, John was General Manager of Mall of America (MoA) for its first 18 years. While at MoA, he created a high-performing culture based on the guiding principles of vision, integrity, collaboration, mindfulness, and positive energy. He led the development of MoA's innovative counter-terrorism programs including its RAM program which, for the first time, successfully adapted Israeli behavior detection methods within the more open and customer-friendly U.S. environment. He also led MoA's development of innovative programs in security, waste and recycling, transportation and wayfinding, amusement park redevelopment, and building a high-performing collaborative team.
Currently, John is principal of Sustaining Optimal Results. He specializes in helping organizations fulfill their greatest potential by applying the guiding principles that he developed at MoA. John is also a long-term meditator and provides training in mindful awareness both within organizations and with individuals.

True North Consulting Group
True North Consulting Group dates back to March of 1984 (previously Elert & Associates). Since that time, True North has served thousands of clients throughout the United States offering a full portfolio of consulting services.
True North brings over 35 years of experience in security technologies, structured cabling, AV/Multimedia, networking, unified communications and data centers. True North provides the benefits of an experienced, unbiased team of security and technology experts as a supplement to our clients' in-house resources at whatever level is needed. Because True North is not aligned with any specific vendor, distributor, or representative firm, recommendations for devices, equipment, and materials are unbiased, allowing clients to keep costs lower while still finding the best available options for procurement.
INTELLIGENT SECURITY SOLUTIONS
We apply a unique and advanced approach for designing integrated security solutions that balance human factors, physical protection systems, and state-of-the-art technology. From client-specific risk assessments and security program designs to behavior threat-detection solutions, we enable organizations to proactively protect their critical assets against a range of manmade threat actors.
"Michael Rozin and his team at Rozin Security were critical part of the success of Super Bowl 52 in Minnesota. From the state-of-the-art security plan, to effective integration of security measures, and superior leadership with private and public-sector partners. Michael and his team helped avoid security risks while delivering outstanding experience for over 1.5 million people. If you are interested in taking your security operation to the next level, I highly recommend Rozin Security."
We provide proactive security solutions by leveraging a unique, advanced approach for designing integrated security solutions that balance human factors, physical protection systems, and state-of-the-art technology.